YOUR PRACTITIONER
The treatments are conducted by a fully qualified practitioner trained to the highest Australian standards, complying with the requirements of the Australian Health Practitioner Regulation Agency (AHPRA), and the Chinese Medicine Board of Australia (CMBA). All this is back up by 12 years experience.
TREATMENTS
Every treatment consists of two parts. First part regulates all internal systems, such as nervous, digestive, endocrine, etc., resulting in improved quality of sleep, stronger digestion and better energy levels. Second part focuses on a specific complaint, e.g. back pain, arthritis or headache. Such a combination reflects a truly holistic health care.
VALUE
The clinic operates from a beautiful backyard studio, inspired by traditional Japanese design. This tranquil environment will calm your senses and induce deep relaxation. At the same time this setup helps keep the overhead costs down and the treatment prices at affordable levels. Also offering discounts to healthcare card and student card holders.
Every session at the Chinese Medicine Studio takes around 75 minutes and seamlessly combines
acupuncture, massage and moxibustion (heat therapy) resulting in a highly effective treatment.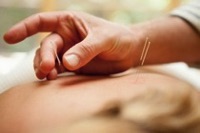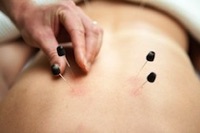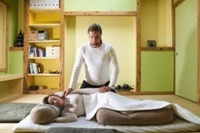 Because of the regulatory effect on the whole body-mind-spirit system treatments at the
Chinese Medicine Studio can successfully assist in the management of various health conditions.
INTERNAL ORGANS
Every internal organ is linked to an energy channel on the surface of the body. Chinese Medicine theory recognises in detail all the organ-channel physiological relationships. This explains why acupuncture techniques can assist in balancing the function of digestive, respiratory, immune, endocrine, reproductive and nervous systems.
MUSCULAR PAIN
Any kind of pain is perceived in Chinese Medicine as a stagnation of energy. Stimulation of acupuncture points by needling, heat or pressure improves the flow of energy in the channels. Most of the time the effects are instant and a degree of improvement is noticeable after the very first treatment.
SHIATSU MASSAGE
Therapy developed in Japan where finger pressure and mental focus are used to move energy blockages.
STRESS RELATED CONDITIONS Emotional stress causes blockages at the more superficial level of human body, but with time starts to affect the muscles and internal organs, contributing to development of physical disease. Acupuncture stimulates parasympathetic nervous system, effectively promotes relaxation and improves quality of sleep.
MOXIBUSTION
Therapy in which acupuncture points and channels are stimulated by heat from burning moxa cones.
Chinese Medicine Studio is a clinic dedicated to providing high quality holistic
health care at affordable prices to the community of Melbourne's western suburbs.
ACUPUNCTURE
Essential part of Chinese Medicine with a well documented history of use stretching over 3,000 years.